Getting It Right For Every Child (GIRFEC)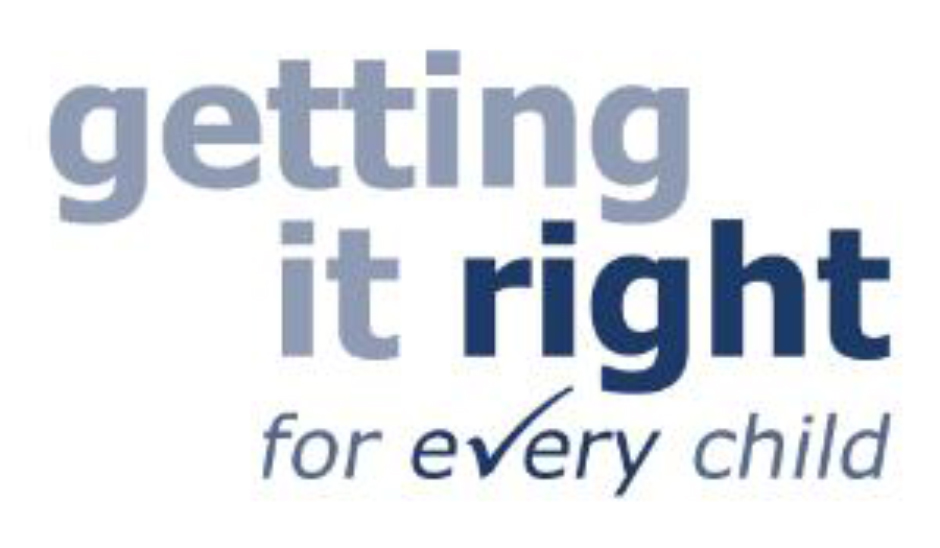 GIRFEC is the national approach in Scotland to improving outcomes and supporting the wellbeing of our children and young people by offering the right help at the right time from the right people.
We all want our children and young people to be fully supported as they grow up from birth, through to childhood and adolescence. Some may experience temporary difficulties, some may live with challenges, and some may experience more complex issues, and sometimes a child and their families are going to need help and support.
No matter where they live or whatever their needs, children, young people and their families should always know where they can find help, what support might be available and whether that help is right for them. We all want to do the best we can to help. We want to Get It Right.
So what is Getting It Right For Every Child (GIRFEC) and how can we, the wider church and our communities, continue to support and nurture children, young people and their families?
GIRFEC is a national approach to supporting and working with all children and young people in Scotland, to make Scotland the #bestplacetogrowup. To achieve this a positive culture towards children is required, and fundamental to achieving this is respecting the rights set out in the United Nations Convention on the Rights of the Child (UNCRC) and Children's Rights. GIRFEC is underpinned by statute within the Children & Young Peoples (Scotland) Act 2014, but has been a national policy in Scotland since 2010. The GIRFEC values and principles build from the Children's Charter and reflect legislation, standards, procedures and professional expertise. GIRFEC is important for everyone who works with children and young people, as well as many people who work with adults who look after children.
Incorporating GIRFEC in to the church
To help church communities see how GIRFEC fits in with their work, four key principles can be followed:
A commitment to keep the child at the centre – by following a child-focused approach, we will ensure that the child or young person and their family is at the centre of decision-making and building solutions to support them.
Focussing on the child's whole wellbeing – if we are all concerned with every aspect of a child's life and wellbeing then we can collectively get it right working across organisational boundaries and putting children and their families at the heart of decision making and ensure appropriate and effective support is offered at the right time.
Making sure we all know who to contact – if we feel we have identified a child or young person's specific need, working with the family, we can access a principle point of contact (the Named Person), who is a person the child and the parent already know and can go to at any time they need help or advice. *It is important that all information shared follows the Data Protection principles and existing legislation, good practice, policy & protocols.
Understanding and planning how our work contributes to children and young people's wellbeing – every practitioner who is involved with a child will be using the same language, clearly recording a child's development using 8 wellbeing indicators: Safe; Healthy; Achieving; Nurtured; Active; Respected; Responsible; and Included, also defined as SHANNARI in the Children & Young People (Scotland) Act 2014.
Putting the Child at the Centre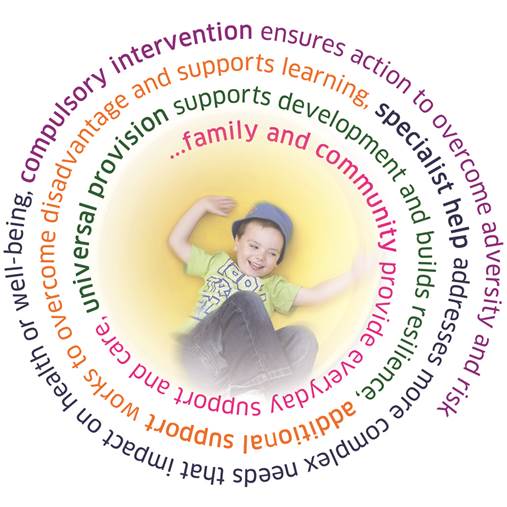 For children, young people and their parent(s) it means:
You understand what is happening and why.
You have been listened to carefully and your wishes have been heard, understood and taken into consideration.
You feel confident about the help you are getting.
You are appropriately involved in discussions and decisions that affect you.
You can rely on appropriate help being available as soon as possible.
You experience a more straightforward and co-ordinated response from the people working with you.
And for people working in children and adult services it means:
the child or young person is at the centre of your work, understanding what their unique needs are and how you can help.
You use common tools, language and processes to consider a child or young person's wellbeing, working closely with them, their parent(s) and other professionals, supporting them where appropriate.
You feel confident that you have the right information to provide the best support you can to a child or young person and their parent(s).
Being part of a child's wellbeing
Community groups, clubs, societies and other organisations across Scotland provide a range of activities and support for children and young people. Anyone who works with children, young people and families in their community are already making an important contribution to their wellbeing and have become part of the Child's Wellbeing Wheel.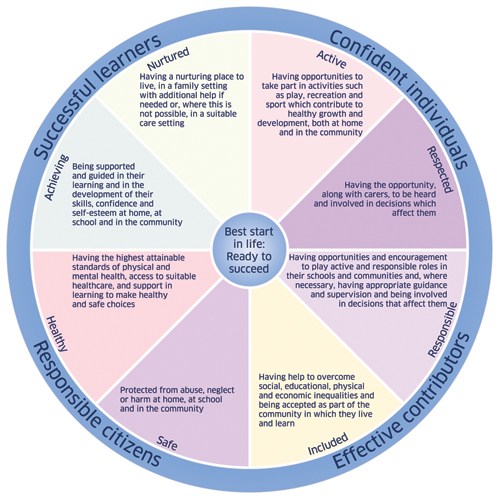 Any person who is working and/or playing an active role in the life of a child, young person and their family, can use the GIRFEC Wellbeing Wheel to plan activities and support for a child or young person that will help them to realise their full potential. When everyone, including the child themselves, has a common understanding of what wellbeing means, it is easier to build a complete picture that will help them to realise their full potential.
How does your work help children and young people?
The 8 SHANARRI Indicators are merely guidelines to assist both the carer and the child/young person in ways of talking about their current situation and overall health and wellbeing. The majority of nurseries and primary schools in Scotland are now sharing the wellbeing wheel and other wellbeing tools to help them focus on key aspects of a child's life, rather than starting from a blank canvas. Games and toys are being designed to illustrate the 8 indicators and a number of the Local Authorities have adapted the terminology in to child friendly tools. (see links below)
Using the 8 SHANARRI Indicators, here are some examples of how you can work with children and young people focusing on their individual strengths and weaknesses:
Safe: Develop trust; sort out a problem; play safely; look after themselves; know where and who to go to for help
Healthy: Look after their health; cope with change; more confident; talk about their feelings; know about substance issues
Achieving: Enjoy learning; be involved in out of school activities; meet their full potential; develop independence and a feeling of self-worth
Nurtured: Get the support they need; have someone they can trust and talk to; feel important and that they matter
Active: Take part in activities; enjoy time with family and friends and meet new people; develop new interests and improve social skills
Respected: Can make decisions; speak up for themselves; get involved in the community; provide their peers with support; feel listened to
Responsible: Understand different cultures and faiths; respect others; have responsibility; make a contribution; try out new ideas
Included: Overcome barriers; develop friendships; feel accepted.
Who do I contact with any issues?
One key aspect of GIRFEC is simply knowing who to turn to for support, and that is from the adult's and the child's/young person's perspective.
The Named Person Service
Embedded within the Scottish Government policy of GIRFEC and some Local Authorities have provided the service as a policy for a number of years, delegating the carrying out of this duty in the main to NHS (Health Visitors for 0 – 5 year olds) and Education (Head Teachers for 5 to 18 year olds). However, following a legal challenge to the official introduction of the Named Person Service, the Scottish Government are required to review arrangements, in relation to Part 4 & 5 of the Children & Young People (Scotland) Act 2014. Further details about this can be found on the Scottish Government website.
Church of Scotland Safeguarding Team
One of the key points of contact for any issues regarding Child Protection and can be contacted via email or telephone 0131 240 2256, or if you have any general queries regarding GIRFEC you can contact CrossReach GIRFEC Development Advisor via email.
To read more about the Children & Young Person (Scotland) Act 2014, Getting It Right For Every Child, and Child Wellbeing, further information can be found via the websites:
Aberdeen's GIRFEC Team have a host of useful training tools which they are happy to share:
One short video which covers UNCRC and GIRFEC
East Renfrewshire GIRFEC Team have designed the Wellbeing Snail Game that can be used with children