Worship Together
If we take Jesus' words about children and the Kingdom of God seriously, then a shared pilgrimage of faith is a vital experience for adults and children alike, as we learn from each other how to be true disciples of Jesus Christ. We should seek to ensure that children are fully part of our worshipping community. It is important for churches not only to have dedicated times of teaching and learning with children in groups parallel to what happens in church for adults, but also those times when Christians of all ages and at all stages of faith worship and learn together. Through learning and worshipping together, adult Christians can share with children, but also children have so much that they can teach us about the love of God, faith in Jesus and the work of the Holy Spirit.
All Age Worship Discussion Starter
Children's Reflections on Worship – Rona Orme
Resources
There are a number of lectionary based materials that include ideas to use to include children in the worship service
Weekly worship
Weekly worship uses the Revised Common Lectionary to provide helpful materials for all those leading worship. Contributors offer thoughts or exegesis on the background of the Scripture passages, some ideas for sermons based on each passage, or combinations of passages, children's address ideas, as well as prayers and music suggestions.
ROOTS
ROOTS is a lectionary-based resource, offering adult, family and all-age materials to support weekly worship and learning of the whole Church community for every week of the year. ROOTS Adult & All Age offers ideas, inspiration and practical resources to enrich your worship, offer materials for every part of your service that genuinely engages everyone.
Gather materials to help you engage everyone from the very moment they arrive - to get them thinking, at their own level, about the ideas they'll be exploring during worship
Lots of engaging ways to present the readings - for example, through a short drama or looking at a video clip
A mini Bible story and play-based activity to introduce the reading to very young children
Sermon ideas
Ideas for an informal talk that helps to guide all ages through the reading
Active worship materials - designed to engage different ages, spiritual and learning preferences
Hymns and songs that are specifically recommended for all-age contexts
Prayers written in language that everyone can understand.
Visit the ROOTS website for more information
Spill the Beans
Using the Narrative Lectionary, Spill the Beans is a lectionary based resource for all-age learning and worship resources and for children's age groups. With a Scottish flavour, stories of love and justice and the grace of God are shared.
Visit the Spill the Beans website.
Watch more Spill the Beans videos on the Christian Education Association Scotland website.
Searchlights – David Adams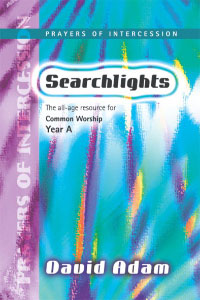 A practical and comprehensive programme for Common Worship, provides an abundance of inspirational worship ideas for all members of the church community, young and old alike, nurturing them individually and as a congregation into a loving and living relationship with God. Written by David Adam, poet-priest of Lindisfarne, reflecting Celtic writings and an interest in our Christian heritage.
The Complete Resource Book provides an overview of the entire programme, enabling the priest and minister to guide, encourage and facilitate. Separate books are available for each age group containing photocopiable worksheets: Links all elements of worship, readings, intercessions, hymns and songs, thoughts and questions.
Buy your own copy of the book.
All Sorts Worship – for every Sunday of the year; Lectionary-based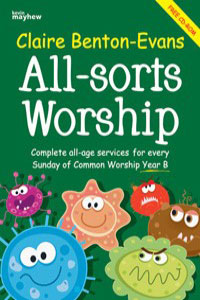 Clear and flexible, these services can be used exactly as written or as part of a service of Holy Communion. All-sorts Worship presents complete services for every Sunday of the year. They are designed to include everyone, which means that the whole congregation worships together and nobody is tidied away. These are the ideal books for real all-age worship which creates a sense of excitement and belonging in your church.
Visit the author's website to buy your own copy.
One for All
One for All presents complete services for every Sunday of the year- themed. Book 1 focuses on Matthew's Gospel, Book 2 follows Mark and Book 3 follows Luke.
Sample of All-sorts Worship services, including one for Christmas Day.
Fresh Expressions
Creative ideas for different parts of worship: In order to navigate the vast worship resources available we have offered a few examples or settings. The examples of different 'ingredients' for worship in seven potential contexts given in each context are in no way prescriptive, but just some ideas to help get you started. To enable mixing and matching for each situation, and encourage creativity. Visit the Fresh Expressions website.
Engage Worship
Resources for innovative and creative worship.This site offers creative worship ideas for every week of the year. Bob Hartman stories and poems. Visit the Engage Worship website.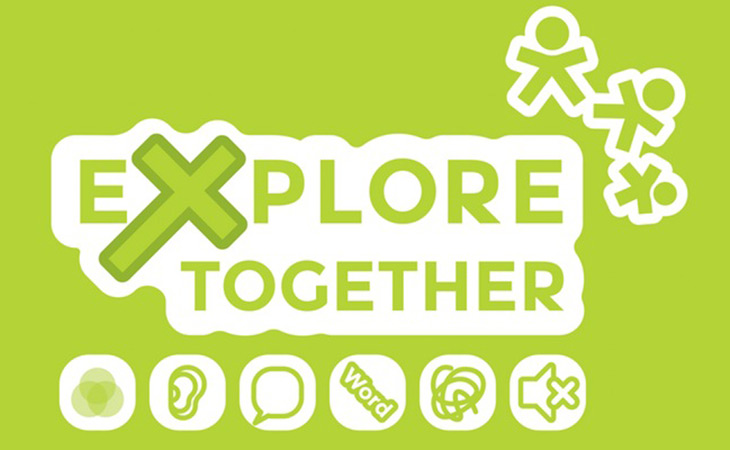 Explore Together
Explore Together is a fresh, new, exciting and creative way to enable groups of any and all ages to engage with the Bible using natural learning preferences and preferred spiritual styles. Resource Books have outlines for 12 sessions.
Books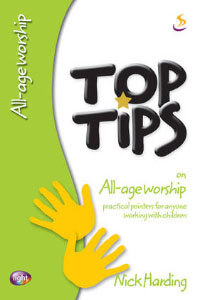 Top Tips on All Age Worship by Nick Harding
An inspirational look at how all-age worship is do-able in our churches, why it's desirable and the benefits it can bring. This book explores some of the features of an all-age church, the different components of a worship event, and how to use them. Contains practical pointers on how to lead all-age worship.
The prospect of all-age worship can produce a cry of anguish from many people. It's time to admit that worship with all ages present is easy to do appallingly and difficult to do well. But it's also time to admit that a church which unthinkingly packs off any group, old or young, to worship and learn in another space every week could well be completely daft...
Buy your own copy of the book on Amazon.co.uk.
All-Age Worship – Lucy Moore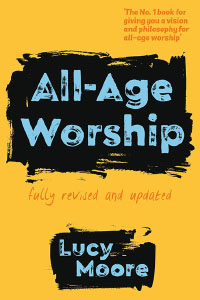 This book is for those who sense that worshipping God together is probably a good thing, but are nervous of trying to lead their church towards that vision. It acknowledges that we don't live in a perfect world - or church - and that no one has all the answers. It also argues that you are the expert for the ways in which your church can best worship God, and helps you start to find those ways and adapt them for your local setting.
Pinterest