Music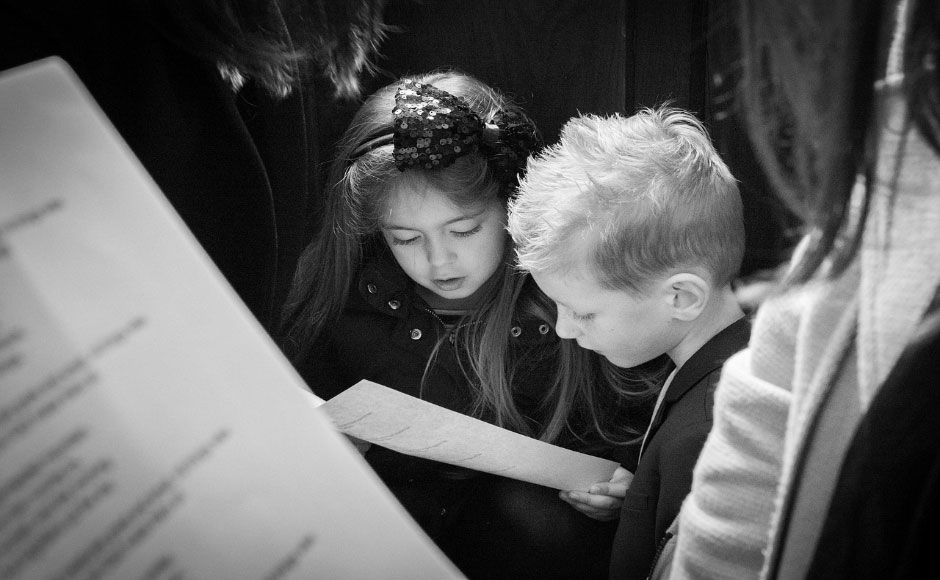 Worship is for the whole people of God, we are all fellow pilgrims on a journey of faith. Since biblical times, music and song has played an important part in worship. It liberates the spirit, gives voice to our emotions, and draws us into the praise and worship of God. It is also the way that people learn much of their theology.
The Christian faith has an ever-growing body of music and songs to draw on. The traditional hymns sung through the ages, contemporary songs, contemplative chants and high-energy action songs are all part of our musical heritage and have their place within worship. For many of us our earliest, and often our strongest, memories are sensory.
How can we engage children and young people in worship which enables them to come close to God? The images and experiences our youngest children gain from worship in the faith community are the foundation for their faith development so it is important to give our children the best possible experiences of worship from their earliest years.
Some areas to bear in mind when using music with children or when children are present:
Your praise reaches up to the heavens; it is sung by children and babies

Psalm 8: 1-2
What variety of music do we include?
Is there more to this song than just a catchy tune?
How does this song fit into the theme/flow of the worship?
Who is the song for? Different ages or mixed ages? Consider levels of literacy and style your group are comfortable with;
Do we offer some songs that our youngest children can access? Eg with freedom: to move around, simple words and repetition and often actions How can children and young people be involved in planning and leading worship?
There are a number of CD's and videos and YouTube videos which can be used to teach and accompany children of different ages for all ages to enjoy together or with different ages of children.
Fischy Music
Fischy Music produce resources suitable for all-age worship, Sunday school groups, uniformed organisations and community groups. These include songs, videos, sheet music, backing tracks, lesson plans and suggested group activities. The resources are available by annual subscription to an online streaming service Songs for Life or on discs available from their online shop. Songs for Life includes a search facility with which you can find all the material for a wide range of topics.
Fischy also offer training workshops for adults working with primary-aged children in church contexts including Sunday school and community groups. They help participants explore the power of song and equip them to use Fischy resources regardless of musical confidence or expertise. Training workshops last from 60-90 minutes and work best in groups of 20-70 adults. They also offer childrens' workshops and all-age church and community concerts. For more information, email Fischy music or visit their website.
Other songs and music ideas
Sing with the World - a global tour in song! These global songs have been selected and edited by John Bell and Alison Adam, members of the Iona Community in Scotland. These songs are accessible - many of them instantly singable—and they have been chosen for use with children in a wide variety of worship and classroom situations. This handy collection is a valuable tool to help enlighten children to the ways of other cultures through the global language of music. Send the children home with these songs on their lips and soon the adults will want to sing along! A CD recording, which is also available, demonstrates a model for style and also provides enjoyable listening.
Songs and Rhymes from Scripture Union
Deliberate Kids - Music site by Phil Joel with modern, catchy and well-produced lyrics and music to download. MP3 versions of many of the tracks can be downloaded from Amazon UK.
Engage Worship - Resources for innovative and creative worship
Resound Worship - Free, fresh worship songs with strong Biblical lyrics and singable contemporary music.
We Are Worship - Worship songs and music free of charge