Recommended reading on youth ministry
The Mission and Discipleship Council has put together a detailed reading list of books related to ministry with children and young people. Community of Faith- Shaping our Churches Ministry with Children and Young People – Suggested Reading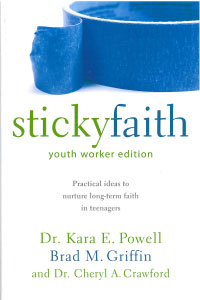 Sticky Faith: Youth Worker Edition – Dr Kara E. Powell
In Sticky Faith, the FYI research team presents youth workers with both a theological and philosophical framework as well as relationship and programming ideas to develop faith that lasts well beyond the youth group. Chapters on Sticky Identity; Sticky Gospel; Sticky Churches; Sticky Justice; Sticky Families; Sticly Youth Groups. Further articles and podcasts on the Sticky Faith website.
Buy your copy of Sticky Faith: Youth Working Edition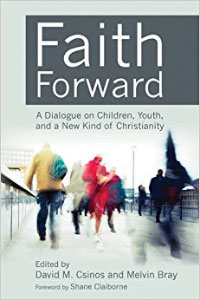 Faith Forward: A Dialogue on Children, Youth, and a New Kind of Christianity
Knowing how to nurture faith in young people is a challenge, particularly when we want to encourage a faith that is generous, innovative, and contextual. Faith Forward: A Dialogue on Children, Youth, and a New Kind of Christianity gathers 21 presentations from the 2012 "Children, Youth, and a New Kind of Christianity" conference held in Washington, D.C., and makes them available for those in ministry with children and youth, pastors, parents, – anyone called to help young people on their journey of faith. This book is a gold mine of information and inspiration for those seeking to engage children and youth in respectful conversation, exploration, and learning in today's complex world. This book provides forward-thinking, ecumenical, innovative, and collaborative ways to develop children and youth ministry. A second edition captures the thinking form the 2014 Faith Forward Conference.
Buy you copy of Faith Forward: A Dialogue on Children, Youth, and a New Kind of Christianity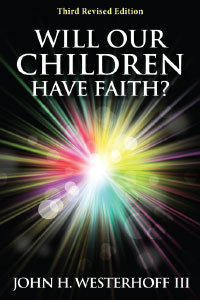 Will Our Children Have Faith? – John H. Westerhoff III
According to Westerhoff, instead of guiding faith formation within the family, the church, and the school, we relegate religious education to Sunday morning classes. There, children learn the facts about religion, but how will they learn or experience faith? How can we nourish and nurture the faith of children, instead of only teaching the facts? Foundational text for Christian formation of children by well-known author, priest and scholar * Includes a Study Guide this classic critique of Christian education is newly revised and expanded and includes Westerhoff's overview and perspective on the state of Christian education over the past forty years.
Buy your copy of Will Our Children Have Faith?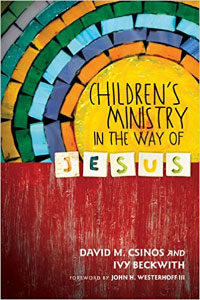 Children's Ministry in the way of Jesus – David M. Csinos and Ivy Beckwith
Attract kids to church, the logic often goes, and you get parents in the pews. All that's left, then, is to get kids out of the way. Not so, say David Csinos and Ivy Beckwith. In Children's Ministry in the Way of Jesus they draw on research in human development and spiritual formation to show how children become disciples and churches become centres of lifelong discipleship. For too long, the local church has focused primarily on programs for children rather than ways of doing ministry with children. But in light of emerging missional movements, the church is changing and forming a new kind of ecclesial culture. And children's ministry must follow suit. Csinos and Beckwith propose a new way of thinking for these modern churches―they suggest that children can contribute to our theological understandings, as well as invest in and practice Biblical justice just like adult church members.
Buy your copy of Children's Ministry in the Way of Jesus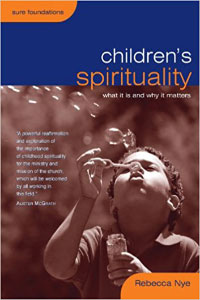 Children's Spirituality – Rebecca Nye
This concise guide is an ideal introduction to the increasingly popular topic of children's spirituality. Mixing theory with tips on 'good practice', leading expert Rebecca Nye shows how choices made in churches and homes can stimulate or stifle a child's spiritual development, exploring: Childhood as a natural source of spirituality; Ways to help children value and express their spirituality; The role of Christian nurture and worship in early spiritual development.
Buy your copy of Children's Spirituality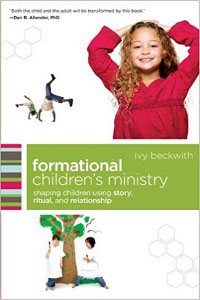 Formational Children's Ministries - Ivy Beckwith
We want to raise faithful children. But are churches today helping to fulfill that mission? Or are we more like entertaining babysitting services than places where true spiritual formation happens? If you're ready to create a place where children feel a part of God's story, where they don't just learn information but live it, Formational Children's Ministry, is your first step. What if we taught children how the stories of God, church history, the local community, and the child intersect and speak to one another? What if children's ministry was less about downloading information into kids' heads and more about leading them into these powerful, compelling stories?
Buy your copy of Formational Children's Ministries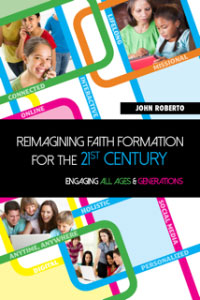 Reimagining Faith Formation for the 21st Century
is a proposal for what twenty-first century faith formation can look like. How can we address the big adaptive challenges facing churches and faith formation? How can we reimagine faith formation with a vision that honors the past and is open to the future? How can we build a new faith-forming ecosystem that supports religious transmission and faith growth? How can we design new models with the best understandings and practices of learning and faith formation? And how can we engage all ages and generations in growing in faith and discipleship for a lifetime?
Buy your copy of Reimagining Faith Formation for the 21st Century