Moderator meets RAF pilot involved in son's Afghanistan rescue
Published on 15 April, 2015
Mr and Mrs Chalmers are visiting RAF Chaplaincy services
The Moderator of the General Assembly and his wife have met an RAF helicopter pilot who was part of the team in Afghanistan which evacuated casualties from the incident in which their Royal Marine son was injured.
Rt Rev John Chalmers, and his wife Liz, are guests this week of the Royal Air Force while they visit Chaplaincy services at Odiham and Brize Norton. During their visit to the Chinook station at Odiham, Mr and Mrs Chalmers met a Chinook pilot who was scrambled to attend the incident in which their son John-James sustained terrible injuries. They saw the logbook entry for May 27 2011, when JJ and his party of Royal Marines were caught up in an IED explosion while on duty in Afghanistan's Helmand Province. Two of JJ's colleagues were killed in the incident, and the pilot described the horror of the radio exchanges between operational control at Camp Bastion and the troops on the ground.
JJ and the other casualties were airlifted to a field hospital by an American helicopter which was first on the scene. The Moderator's attention was drawn to the next entry in the Chinook's logbook, which shows the aircraft was then rerouted to pick up a 12 year old Afghan girl who was also injured during the incident. Mr Chalmers said "It was a poignant moment and we both felt some comfort at the thought that our forces also worked to save the lives of locals who were caught up in this terrible and confusing conflict."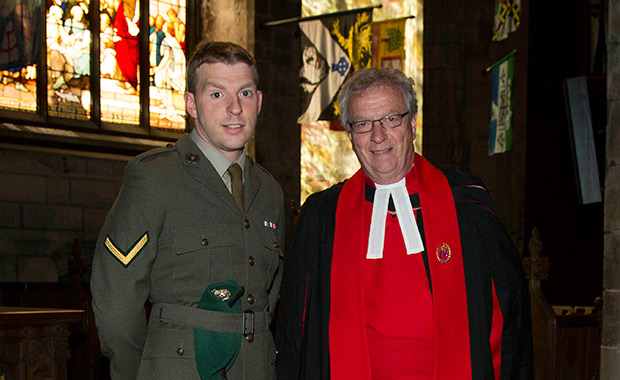 He added, "Four years on JJ is going through yet another operation today; we should never forget that the ramifications of the Afghan conflict continue to be very real for many, many families and that is one of the reasons why Chaplaincy services in the Forces are so important."
Mr and Mrs Chalmers visit is continuing at the Chaplaincy centre at Amport House in Hampshire. It is used by all the military services used in the training and support of military chaplains. You can find out more about their work at this link http://bit.ly/1PNm8ra