National Youth Assembly 2018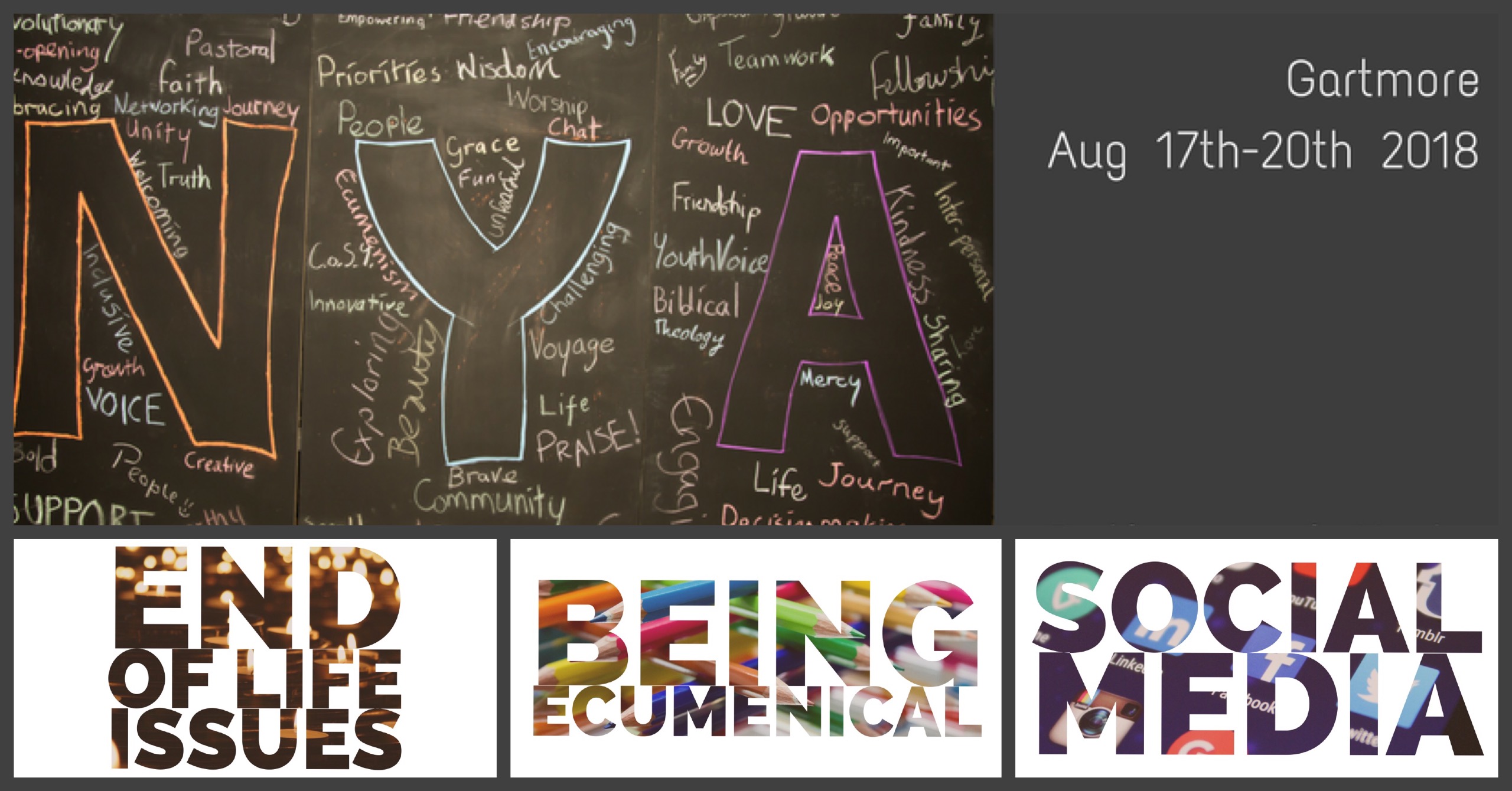 The National Youth Assembly is a platform for young adults to voice their opinions and actively participate in decision making within the Church of Scotland.
Held annually, the residential event is for young adults aged between 17 and 25 that have some connection with the Church of Scotland. Attracting folk from all over Scotland (and beyond) with different backgrounds, it's a chance to get together, worship together, learn together, discuss together and work together. Have a look at our video for a flavour of what we are all about. View the event poster. Register for the event on Eventbrite
Designed to enable young adults to have a voice within the Church of Scotland, NYA consists of a series of discussions on topics ranging from fashion to politics, from tax avoidance to climate change and from social media to marriage. After the event feedback from the discussions is collated and, alongside a report printed in the 'Blue Book', is presented to the following General Assembly by the NYA moderator. Have a read of the report and supplementary report of past NYAs to see what has been discussed at previous events.
We will be at Gartmore House for NYA 2018. While there is plenty of parking available, we encourage folk to travel by public transport so free coach travel is organised to/from Stirling train station. If you would like a place on the coach please just tick the box on the booking form.
Discussions for 2018 will be:
End of Life Issues
Ecumenism
Social Media
Dates
Friday 17th August (5pm) - Monday 20th August (5pm) 2018
Cost
£50pp priority areas or requiring air travel
£85pp early bird (closes 12/5/2018) for full board and coach travel from Stirling
£95pp full board and coach travel from Stirling
Discounts are available for those struggling for funding. Contact sfarrant@churchofscotland.org.uk for details
Booking
Tickets are on a first come first served basis and need to be booked by 17th July, after which time no refunds will be given.
Venue
Gartmore House, Stirlingshire, FK8 3RS
FAQs
Can more than one person come from a church/presbytery?
Absolutely, National Youth Assembly has no restrictions on the number of people coming from each church/presbytery. Many people come to NYA on their own (as they are the only young person in their church) but coming as a group from a church can be great too.
Is there an age restriction?
Yes, you need to be aged 17-25 on the day National Youth Assembly starts.
Do you have to be a member of the Church of Scotland?
No, although we do ask that you have some sort of connection with the Church of Scotland - for example, you could be a member, an elder, a regular attendee, or a member of a GB/BB company that is connected to a CofS congregation. A few ecumenical and international guests have also been invited.
Will I have to share a room?
Yes, all the accommodation is in shared rooms of various sizes; there will likely be between 2 and 7 other people in your room. As part of the booking process we ask who you would like to share a room with and do our best to accommodate your requests.
How can I help advertise the event?
There is a poster you can display in your church, and please share the event details on social media. If you have been before, tell people about your experience - word of mouth is often the best advert.
I have some ideas for the programme, who do I tell?
Simply send us an email. All ideas are gratefully received!
I see you have a volunteer team, how do I get involved in that?
An NYA event doesn't run itself, it needs a team. Each year this is made up of people who willingly volunteer their time. Those over 25 are considered staff, while those aged 17-25 are considered volunteers, and receive a reduced ticket cost. We have a number of teams (pastoral, hospitality, small groups, worship, logistics). If you think you have the skills and would like to be on one of those teams please get in touch with Suzi Farrant before you buy your ticket to express your interest.
If you have any questions about the event please contact Suzi Farrant in the Mission and Discipleship Council office sfarrant@churchofscotland.org.uk.