Working together in faith
The Church finds itself living in an increasingly religious diverse nation. The landscape of our country is no longer solely dominated with the steeples and crosses of Christians Churches, but is peppered by the arches and domes of temples, synagogues, gurdwaras and mosques. As Christians we are having to adopt practical ways of encountering people from other faith backgrounds, whether neighbours, shop keepers, co-workers, relatives or friends. Rather than seeing these encounters as a potential source of conflict, Christians are beginning to view them as unique opportunities to witness, love and 'serve to the ends of the earth.' (Acts 18)
The Church of Scotland's Interfaith Forum organised by the Mission and Discipleship Council meets twice a year and gathers representatives from Church Councils and other agencies, providing a regular place for common reflection and exchanging information and experience of interfaith dialogue.
Read about activities in which some of our local churches have been been involved.
Shetland - Interfaith Activity Week
Rev Tom Macintyre, a founding member of Shetland Inter-Faith Group, and members of the Scottish Interfaith Youth Council facilitated an Interfaith Activity Week in 2010. The week involved visits to the Presbytery and various schools and colleges exploring interfaith dialogue and looking at issues of diversity, mutual respect and understanding.
Tom said "It was so good to have friends from the Church of Scotland and the Scottish Interfaith Council to come to Shetland to see what Inter Faith work is being done here in the far flung areas of Scotland. When we are initiating new work and sometimes ploughing a lonely furrow we need the support of the wider church and Inter Faith community. I am sure that the input made in these few hectic days will pay dividends for the future."
Dundee - Sharing of Faith Charity Concert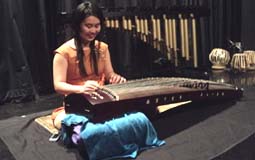 To herald Scottish Interfaith Week 2010, the Dundee Inter Faith Association (DIFA) in conjunction with Abertay Chaplaincy arranged an inter faith concert. There were contributions from the Muslim community who presented two Nasheeds, a performance on the Chinese Zither - the Zheng, a Sitar and Tabla duet, Dundee's own Cecilian Choir, Nigerian Gospel Singers and items from local performers featuring fiddles and bagpipes.
The intention of bringing together representatives of religious and cultural communities represented in the local population for a wonderful evening of music and song was achieved and money raised for the DEC Pakistan Floods Appeal.
Govan Hill Trinity Church
This was the first in a line of recent projects between Central Mosque Glasgow and local Churches. In 2008 volunteers from Central Mosque worked alongside volunteers from Govan Hill Trinity Church to decorate the Church hall.
Mure Church, Irvine - Spirituality Programme
Rev Hugh Adamson initiated a spirituality programme from 2009 to the present day gathering a variety of speakers from other faith traditions. "We have found it interesting and we have found it immensely challenging, because to have a devout person of another faith in your midst throws you back to your own faith. So it has been spiritually very good for the congregation." The Spirituality programme has encouraged the congregation to look at all aspects of their faith, from worship to understanding scripture.
Eskdale Church, Dumfries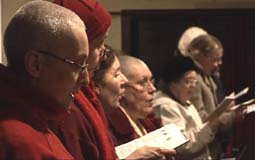 In December 2010, Rev Robert Milne conducted a Carol Service at Eskdalemuir which was attended by several Buddhist monks and layity from the Buddhist community. The local congregation have been meeting regularly with local members from the Buddhist community and have exchanged visits to each others places of worship and held events where they have come together to better understand one another. "This dialogue between the two makes us better Christians and hopefully we can make them better Buddhists."